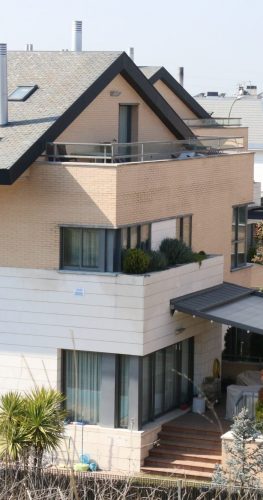 How we can help you
Our services
Nuestro objetivo es ayudar a nuestros clientes a construir o rehabilitar viviendas aplicando medidas de eficiencia energética que disminuyan la demanda final de las mismas. El coste de estas medidas se rentabiliza por la disminución de los costes energéticos de las viviendas.
Además, diseñamos sistemas energéticos renovables para sustituir de forma rentable a los sistemas de producción de energía convencionales. De esta forma disminuimos de forma muy importante las emisiones de CO2  provocadas por las viviendas al mismo tiempo que reducimos los costes energéticos.
Para ayudar a nuestros clientes a afrontar la mayor inversión inicial, ofrecemos la financiación de estas medidas a través del esquema de Empresa de Servicios Energéticos (ESE).
Le ayudamos a hacer viviendas sostenibles, más eficientes y más rentables. Al mismo tiempo ayudamos a reducir la presión medioambiental sobre el planeta y a alcanzar los objetivos establecidos en la cumbre del clima de Paris.
Energy Efficiency
Diminishing energy consumption
Energy efficiency has to be the main tool for new housing and buildings. Through it, total energy demand is reduced and therefore we reduce energy consumption. With this we achieve an economic saving and diminishing of the CO2 emissions.
Renewable Energies
Reducing CO2 emissions and air pollution
La integración de las energías renovables en las viviendas y edificios, empezando por las más rentables, como la geotermia, es otro paso fundamental hacia la consecución de viviendas sostenibles. Las instalaciones de geotermia sustituyen más del 80% de la energía primaria de la demanda que atienden por energía renovable sin emisiones ni impactos visuales ni sonoros.