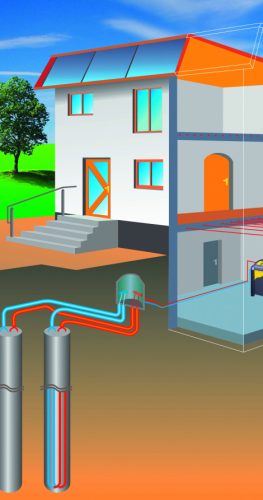 Geothermal energy: What is it?
Geothermal energy consist in the use of the energy contained beneath the Earth. This energy comes from the early stages when the Earth was created and from the decomposition of the radioactive materials existing beneath the surface.
Very low temperature Geothermal energy  can be used in any place and produce thermal energy using a water/water heat pump with an efficiency usually higher than  500%.
Available 24/365
It does not need a backup system
Available in any place
Lower energy cost that any other system
You do not see nor hear it
Less maintenance cost than any other
A single-system for heating, cooling and DHW
No local emissions. Without chimneys
CO2 emissionsmore than 75% lower than natural gas systems
Geothermal Heating and cooling in houses and buildings
Best heating and cooling system
Geothermal heating of houses and buildings through geothermal heat pumps is the most profitable and healthy method that currently exists. We offer turnkey project and financing of the same through the energy services company scheme (ESCO). The realization of the overall project by one company ensures the coordination of the different parts of the system (geothermal system, heat pumps, heating/cooling, control system) and avoiding problems caused by the incoordination among them.
Additionally, if done under the scheme of energy services company, the company will be the responsible for supplying you the energy at the agreed price.